John Caples Copywriting Secrets
Published by: David Garfinkel on 01-27-2020
Tweet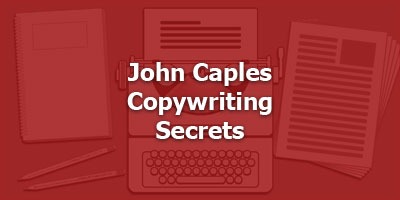 His first year writing copy, he wrote an ad with the headline "They Laughed When I Sat Down At The Piano… But When I Began To Play…" which is famous to this day.
He taught copywriting at Columbia Business School in New York.
Caples is truly an old master, and that's why we're including him in our Old Masters Series. His book "Tested Advertising Methods" has so much value for copywriters we could barely cover a few parts of a few chapters. But it's easily available on Amazon, and I've included a link at the bottom of the show notes on copwriterspodcast.com
Here are the key points. Much more detail in the recorded podcast itself.
1. The kind of headlines that attract the most readers
Based on tests, usually headlines with a combination of self-interest and curiosity, work best. Sometimes, adding or implying "quick and easy" will boost response even further.
2. How to put enthusiasm into your copy
Forget about everyone except your prospect… write fast… get worked up… let momentum launch you into a wave of enthusiasm.
3. Simple hacks to get more opt-ins
Lots of proven "little" things will increase your response dramatically. Most people fall short here on some of the basics.
4. Simple hacks to multiply your copy's selling power
The key word here is "simple." Fight every urge to be philosophical, elaborate or flowery in your writing.
Tested Advertising Methods
Keywords:
Advertising founding fathers