Copywriting - The New Normal
Published by: David Garfinkel on 04-20-2020
Tweet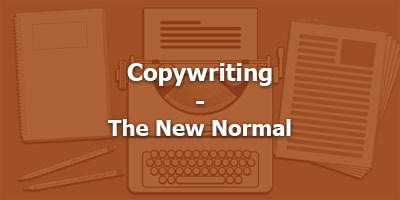 You get up in the morning, and within a few minutes this sharp pang of confusion runs through your body as you wonder, "What world am I living in?"
Yep. These are disorienting times, that's for sure. We're all doing the best we can to adjust to it. And based on my very limited view of what's going on, most people are doing OK.
I know some people are suffering terribly right now. I have one friend who had what he was pretty sure was coronavirus, and he got through it. I'm grateful for that. And I'm aware there are many others who are having a pretty tough time with it.
What I want to talk about today is not the present, but the future. And not the general state of the world, but copywriting in what's starting to be called "The New Normal."
Yes, it's the doctors, nurses and first responders who will get the world at large through this. But copywriters can do a lot to help keep some businesses afloat and maybe, just maybe, increase the number of employees of those businesses who keep getting paychecks.
So on today's show we looked at these topics, which are important to copywriters and business owners:
1. Where we are now. Not everyone's in the same place or headed in the same direction, and that's vitally important to understand as you move ahead with marketing. We look at what people in the market want (and will want, for at least the next six months), and what negative feelings people are having. And how this applies to you and your business.
2. What "the new normal" will mean for existing businesses driven largely or completely by copy. Tone of messaging matters. The mood of the market has changed, and we need to adjust.
3. What "the new normal" will mean for businesses that didn't use copy in the past. "Remote selling" is going to be a new concept for a lot of traditional businesses. Of course it's the stock-in-trade of copywriters. A look at how copy may find its way into a broader range of businesses than ever before.
4. What all this means for copywriters. We've seen a lot of mistakes made in the first months of the pandemic. And a lot of good things, too. Some idea on how to maximize the odds that your copy will be well received, and your response will be as high as possible.
Keywords:
pivot coronavirus