Control Emails, with Brad Nickel
Published by: David Garfinkel on 05-25-2020
Tweet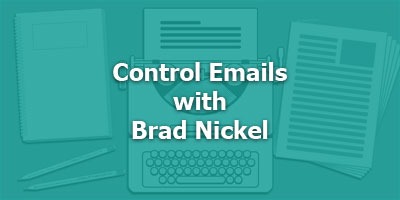 And let's be clear. Sometimes it is.
But our guest today is obsessed about control and controls in the best possible way.
He's copywriter Brad Nickel, originally from Madison, Wisconsin and now living in Valencia, Spain with his girlfriend and their French Bulldog, named Renée.
Disclosure: Brad's a client of mine.
He writes copy and manages email lists for 8-figures health companies. And this is where the conversation turns to control.
Brad has written "control emails" that get used over and over again by his clients and their affiliates. His copy has brought in tens of thousands of leads and customers… and helped his clients make tens of millions of dollars.
Today he's going to tell us how he does this, and give you some tips you can use yourself.
Here are the questions I'm going to ask him:
What is a control?
What is a control email?
What are some examples, and why do you think they worked?
Could you break down of the structure of a control email, and what you think about when you're putting together an email that could become a control?
What are some do's and don'ts?
What's counterintuitive about what usually works?
Brad's email: bradnickel@gmail.com
Keywords:
email control copywriting