How I Write Million-Dollar VSLs, with Chris Haddad
Published by: David Garfinkel on 08-24-2020
Tweet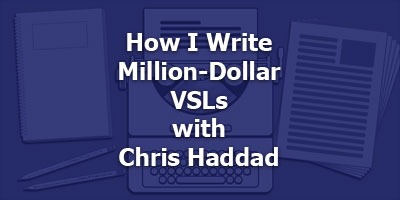 As a freelancer, he was so good that one of his clients referred to him as "moneyfingers!" We happened to be working together at the time, and I told him he should take the word and run with it. Which he has — Mr. Moneyfingers.
As a marketer of his own products, Chris went way outside of the niche and managed to get himself on a national TV show with Rachel Ray. This was for his product "Text the Romance Back."
Though he really is legendary today, he was once just an under-the-radar copywriter. That was a long time ago, for sure. I bring that up only to point out he's worked his way to where he is, and I'm hoping he can share some stories and secrets you'll find inspiring as well as useful for wherever you are on your own path.
Here are the questions we asked:
1. Chris, welcome and thanks for joining us! I've found people at very high levels in this business speak about your work in hushed tones, unless they have a competing product, and then their voices get a lot louder. Could you tell us how you get started on a project, and how you've been able to create so many winners?
2. The stories you write at the start of your scripts and letters are like nothing I've ever seen. You seem to get so deep into the mind of your prospects that I wonder if you use acting techniques to emotionally "become" your prospects. How do you get so in touch with the inner dialogue of the people you're selling to?
3. I think it's fair to say that you're a contrarian. What are some things "everybody" says you should do in copy that you disagree with — and what do you do instead?
4. What's the most interesting feedback you've gotten from customers and JV partners about your copy?
5. Your copy is so in-your-face, and Facebook doesn't look kindly on really strong copy, in my experience. How do you work around that, or, do you simply not advertise on Facebook?
6. What advice do copywriters need to hear in 2020 that no one else is telling them?
Keywords:
VSL products