Mr. MoneyFingers with Chris Haddad
Published by: David Garfinkel on 08-31-2020
Tweet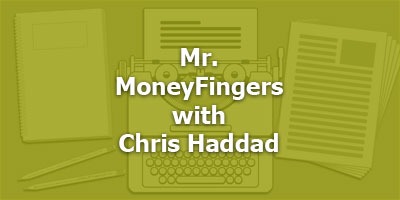 As a freelancer, he was so good that one of his clients referred to him as "moneyfingers!" We happened to be working together at the time, and I told him he should take the word and run with it. Which he has — Mr. Moneyfingers.
As a marketer of his own products, Chris went way outside of the niche and managed to get himself on a national TV show with Rachel Ray. This was for his product "Text the Romance Back."
Though he really is legendary today, he was once just an under-the-radar copywriter. That was a long time ago, for sure. I bring that up only to point out he's worked his way to where he is.
Today's show is called "My Life In Copywriting," and Chris has agreed to take us on a VIP tour of how he got to where he is today.
Here are the questions we asked him:
1. What was your first big win as a copywriter?
2. When you started writing for people like Joe Barton and Jeff Walker, what do you think you did that got such big results?
3. Normally I wouldn't bring this up, but if you're willing, I'd really like you to talk about keeping your business alive when you were seriously sick with Lyme disease. I thought it would be of interest because there's so much concern about covid and health in general these days.
4. You made a transition from copywriter to business owner, something that would scare a lot of copywriters. Complete with employees, systems and everything that goes with having a business. Could you talk about the challenges, and what you learned?
5. Looking at the world as someone who has been a copywriter for hire, and, if I remember correctly, you hired copywriters at one time. How did that work out, and, what tips would you offer copywriters today?
6. Wanna talk about your latest project and how it's going?
Keywords:
chris Haddad