A-List Copywriter Carline Anglade-Cole Shares Freelancer Secrets
Published by: David Garfinkel on 09-28-2020
Tweet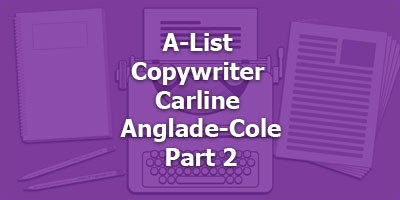 Her latest book is called, "My Life as a 50+ White Male." That's because, as a biracial woman, Carline has successfully found a way to get into the mindset of her prospect. Which, as you can imagine, is quite different than she is!
Last week, Carline traced back the lessons of her career as an in-house copywriter for Phillips Publishing, and especially her mentorship with the late Clayton Makepeace.
She's back today because she has agreed to share some of her highly valuable freelancer secrets, which everybody needs to hear -- even if you're not a freelancer!
She generously agreed, and that's what we'll talk about today.
Here is what I asked her:
1. In your new book, you write:
"You've got to remember, when you're a freelancer, your first client is YOU!"
Sage advice, and I've never heard it put quite that way before. How about a couple tips for freelance copywriters on marketing themselves?
2. You were raising your kids both in your time as a team member at Phillips, and as a freelancer. Could you talk about the challenges you faced in your two roles as mom and copywriter, and how you handled the challenges?
3. What were the most important lessons you learned from your first gig, writing the male potency product promo?
4. What are the biggest mistakes you see freelance copywriters making? What should they do instead?
5. This part in your book really impressed me:
"If I was not comfortable with the product, why should I try to sell it to my market? These folks are counting on me to look out for them.
"I really believe that's a big reason for my success. It's much easier to write strong sales copy and get controls when your products actually help people."
Could you talk about that and how it has guided your career?
6. Tell us more about your book!
Carline's new book:
https://www.amazon.com/Life-Year-Old-White-Male-Direct-Response-ebook/dp/B08DJDDKPY
Keywords:
Copywriting in someone else's voice