5 Copy Don'ts
Published by: David Garfinkel on 12-07-2020
Tweet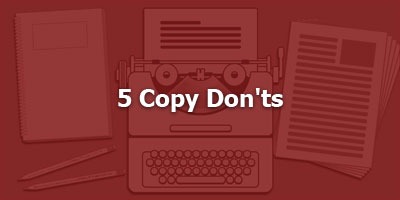 He's simply known by three initials: J.K.F.
This was a guy who literally started out writing copy for food.
He was quoted as saying, "No one wanted an advertising man like me. Had to eat so made a deal with the mate and cook of a ship who had opened up a restaurant on 23rd Street. Every week I put a poster in the window inviting people to come in and eat. In payment, whenever I felt hungry I went in and ate on the house."
He started out like that, but he ended up as a rich and successful CEO of New York ad agency.
J.K.F. wrote a chapter in the book "Masters of Advertising Copy" called "Copy Don'ts." We're going to talk about some of them today.
It turns out there were 38 "don'ts" in his chapter, and we wouldn't possibly have time to cover them all adequately in a 30-minute podcast.
So we selected eight of the best and fit them into five categories:
1. Facts and research
2. The state of mind of your prospects as they read your copy
3. The importance of being proactive about persuasion
4. The danger of distrust, and how to avoid it
5. Generating ideas that sell
Keywords:
things to avoid in your copy