Counterintuitive Copywriting with Donnie Bryant
Published by: David Garfinkel on 12-28-2020
Tweet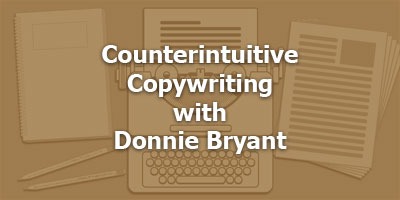 Since 2007, he's written sales copy in more than a dozen niches. Agora Financial, Dan Kennedy's GKIC, and Early to Rise have all been clients. He's also shared the stage with legends such as Lamar Tyler, David Deutsch and the late Clayton Makepeace.
I heard Donnie speak on an invitation-only copywriting webinar hosted by Agora Financial a couple years ago. He said some things about curiosity and neuroscience, as they related to copy, that caught my interest so much I knew I wanted to have him on this podcast some day.
That day is today, and we're lucky to have him.
Here's what I asked him:
So we can both admit neither of us remember exactly what you talked about on that Agora call, but I believe you are a big fan and ongoing student of neuroscience, as it applies to copywriting.
Could we start with this question:
1. What's the most surprising thing you've discovered about how neuroscience affects how copywriting works?
2. You have said that "salesmanship in print" is an outdated term. Especially considering that you live in the great city of Chicago, where the phrase was coined, that's a little surprising. Why do you say it's outdated?
3. At one time in your life you used to sell jewelry face-to-face. I believe you learned a tactic then that makes it painful not to buy! Could you tell that story?
4. I hope you'll forgive me for bringing up Chicago again, but it is the home to some of our greatest comedians, Donnie. You have a technique copywriters can use to engage readers' minds more deeply… and you say this can be done by swiping a technique mastered by top comedians. Tell us about that.
5. OK, let's get into neuroscience again for a second. What is the REAL neurological reason it is critical to nail your headline and lead on every piece of copy?
6. You have said that AIDA should really be CDA. What do you mean by that?
Keywords:
copywriting humor