The #1 Most Underrated Copywriting Skill, with Roy Furr
Published by: David Garfinkel on 02-01-2021
Tweet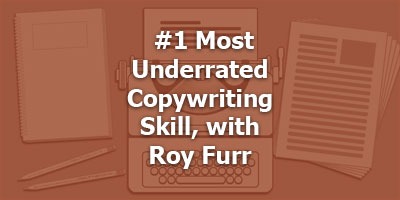 He's done many seven-figure promotions for clients and coached, trained, and mentored other copywriters. Glad to have a great copywriting coach on the show!
Roy has also published his daily Breakthrough Marketing Secrets newsletter since 2014. Today he's going to tell us about "The #1 Most Underrated Copywriting Skill."
I agreed with Roy about this skill and I couldn't wait to hear what he has to say about it.
His point was important: You can have
… the best headline
… the best hook
… the best stories
… the best bullets
… the best offer
… and the best all-the-rest, but if you don't have a solid, sense-making, easy-to-follow structure to put it all in, then, it's all for nothing.
He's right, of course.
What's great about what Roy says is he gives you lots of ways to make sure your structure is good, and also gives you access to free and purchasable resources to help you more.
Here's the link to follow if, after you listen to the show, you'd like to go further with this very important topic (and many of Roy's other great tips, courses, and services):
https://www.BreakthroughMarketingSecrets.com/garf
Keywords:
copywriting formula template