The New World of Personal Branding, with Rocky Buckley
Published by: David Garfinkel on 03-01-2021
Tweet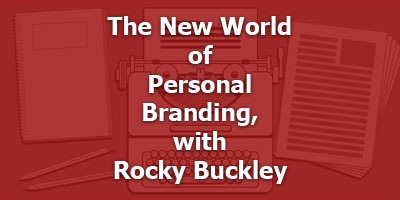 Over the last 20 years Rocky has helped his clients bring over 100 million dollars in training and info products to the market. He's consulted on over 3000 projects for clients ranging from billion-dollar brands like Pearson, Wiley, and Macmillan, to experts, authors, and entrepreneurs in 7 countries and over a hundred different markets.
But he's accessible. You can hang out with him every day in his free Facebook group, called The Power Persona Project.
Rocky talked about how and when personal branding is a plus for a copywriter, and some inside secrets you can use for yourself or your clients.
Effective branding requires inner and outer work, Rocky says. He gave some great tips and benchmarks to give you a fuller working understanding about personal branding.
Rocky's Facebook Group:
https://www.facebook.com/groups/powerpersona
Keywords:
copywriting personal branding