New Opportunities on LinkedIn, with Ted Prodromou
Published by: David Garfinkel on 05-10-2021
Tweet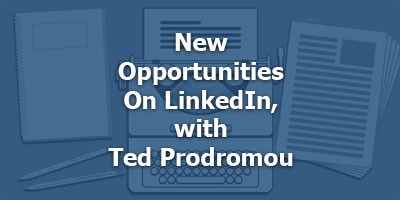 We had Ted on the show not too long ago, and with all the changes going on over at LinkedIn, it was time to bring him back.
He's founder of Search Marketing Simplified, a social media marketing firm.
Besides Copywriters Podcast, Ted has also been featured on Entrepreneur.com, The New York Times, CNBC and Forbes.
I don't see any reason to wait a minute longer, except to say this:
Here's what we asked him:
Let's start with you telling us what's new on LinkedIn?
How are people using marketing on LinkedIn these days, and what kind of results are they getting?
What are some LinkedIn marketing techniques most people don't know about, or don't use, or are using wrong?
If someone's brand new to LinkedIn, what are the first steps?
What are the most common problems your clients come to you with, and what can you tell us about what you advise them?
Ted's books:
The Ultimate Guide to LinkedIn for Business
https://www.amazon.com/Ultimate-Guide-LinkedIn-Business-million/dp/1599186403
The Ultimate Guide to Twitter for Business
https://www.amazon.com/Ultimate-Guide-Twitter-Business-Characters/dp/1599184494
Reach out to Ted:
www.YourLinkedInCoach.com
Keywords:
getting copywriting clients on LinkedIn