Blazing His Own Copywriting Trail with Eddie Shleyner
Published by: David Garfinkel on 05-24-2021
Tweet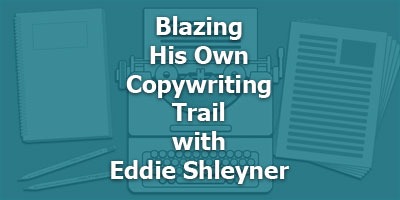 Eddie Shleyner started out writing copy for some large business websites. Meanwhile, he kept some notes to himself as he was figuring out copywriting in a hectic corporate environment.
One thing led to another, and there have been some pretty interesting developments, which you'll hear about today.
Here are the questions Eddie answered:
1. You've taken a different approach to copywriting from anyone else I've come across. Could you tell us something about the results you're getting -- in terms of clients and income?
2. You've told me about your career path, and it's definitely different. Could you share the highlights of how you got to where you are today?
3. What mistakes did you make and what did you learn from them?
4. And what were the things you tried that worked out really well?
5. So you have 20,000 subscribers… which is pretty awesome for any copywriter and really, more than most online businesses have.
What would you say, from a content creation point of view, are the most important things you did that built up your subscriber base?
6. Please tell us more about your subscription service for copywriters on Patreon?
Eddie's Patreon page:
Patreon.com/VeryGoodCopy
Keywords:
patreon copywriting newsletters