The Founding Fathers of Copywriting, with Sean Vosler
Published by: David Garfinkel on 06-14-2021
Tweet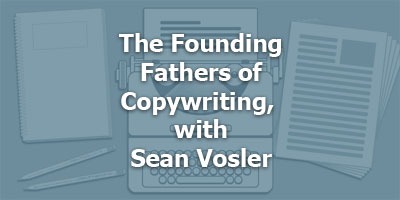 His name is Sean Vosler and I've wanted to have him on the show ever since I saw some of his detailed, comprehensive mindmaps connecting the early pioneers of advertising to the world of today.
He's also the founder of Increase.Academy and author of the best-selling guide "7 Figure Marketing Copy." He specializes in helping business scale to seven and even eight figures.
We're going to talk about a bunch of things today, including how he scales businesses with direct marketing copy. But just as important is his unique and penetrating research back into the 1880s and 1890s, where he is on a mission to find out how we got to where we are today in the world of direct response marketing.
Of course, one of the reasons Copywriters Podcast got to where we are are today is the following:
Copy is powerful. You're responsible for how you use what you hear on this podcast. Most of the time, common sense is all you need. But if you make extreme claims... and/or if you're writing copy for offers in highly regulated industries like health, finance, and business opportunity... you may want to get a legal review after you write and before you start using your copy. My larger clients do this all the time.
On today's show, we heard some wild tales about:
-Why Sean is so eager to get to New York
- The great copywriters of the late 19th Century, and how their influence stretches from Claude Hopkins to all of us today
- How he got into becoming such a prodigious copywriting historian
- His new book, 7-Figure Marketing Copy
You can find out more about the book at:
Sean.co/copywriterspodcast
Sean.co/copywriterspodcast
Keywords:
Sean Vosler Copywriting Old Masters