Home Shopping Network Secrets, with Marissa Morgan
Published by: David Garfinkel on 07-12-2021
Tweet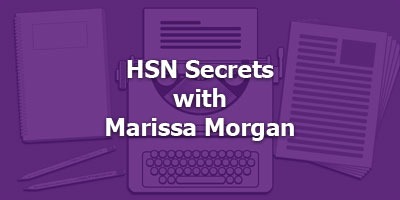 But that show is only the latest chapter in Marissa's very impressive resume. Before we get to the highlights, let me share the one reason you should pay very close attention to everything she says and does today. It's that that Marissa excels at two of the most important skills to have at this time in history.
- Being on TV, and
- Selling on TV.
Marissa has more than $25 million in sales to her name on Home Shopping Network and other TV shopping channels. Personally. But wait, there's more. A lot more.
As an actress, she's been on TV shows including Ray Donovan, Fuller House, and Bixler High Private Eye, just to name a few. Most of the time, she gets cast as a news anchor or a police officer.
She's done stand-up at The Comedy Store and The Improv in LA. And while she still appears on ShopHQ TV today, she's also got an exciting new role that's really relevant to online entrepreneurs with a startup called ngagge, which she'll tell us about in a bit on today's show.
Here's what I asked her:
1. Marissa, welcome and thanks for joining us. I'm a big fan of yours and I'm also a big fan of the Showtime series Ray Donovan. You got a role very few people get to have in acting, because you "played yourself." Could you tell us about it?
2. So let's talk about Home Shopping Network. I know it's only one of several TV shopping channels where you have hosted, but it's definitely the best known to most of our subscribers.
Tell us about how you got started… a memorable experience or two… and what your learned in your training.
3. OK, so, moving into the world of the online entrepreneurs and copywriters, what can you tell us about selling online when it's just you and your computer rather than a whole studio setup?
What are people doing right?
What are people doing that's not quite right?
What do you notice most frequently that people can do to improve?
4. And this brings us right up to the present. You have a show on ngagge, where I was fortunate enough to be your guest. Tell us about the company, what you're doing, and what opportunities there are for our listeners?
https://www.ngagge.com/
Keywords:
livestreaming copywring selliing