Elmer Wheeler Tested Selling Phrases
Published by: David Garfinkel on 07-26-2021
Tweet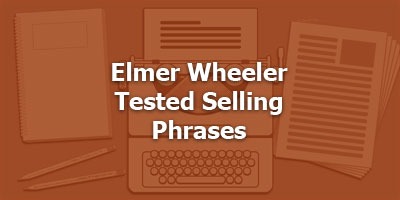 Or, more than $10,000 for each of those nine words.
But those nine words had some other dollars attached to them as well. Texaco estimated gas station attendants who asked customers that question ended up opening one-quarter of a million car hoods — and, you can bet, selling lots and lots of extra motor oil soon after they did.
By 1938, Elmer Wheeler had worked out tested selling sentences for 5000 products, according to an article about him in the New Yorker. One of those sentences, for Barbasol shaving cream, reportedly increased sales by 300%.
In 1940, he wrote a book called "Sizzlemanship: More than 2,000 Successful Selling Pitches to Command Instant Attention and Buying Action." It is out of print today, but there's a Kindle edition available on Amazon for a few dollars.
He's definitely one of the most interesting and, I'm sorry to say, overlooked Old Masters in copywriting. But we're going to do something to correct that overlooked part today.
I have a hard copy of the book and I pored over it to find a few examples of his tested selling sentences we could look at today.
Now remember there are more than 2,000 tested selling sentences in the book. Even if we were to read them without saying anything else, that would take several podcasts.
So what I've decided to do is find five categories of sentences that would give every copywriter a real edge, once this information is incorporated in their thinking and their copy.
Elmer Wheeler was way ahead of his time, nearly 100 years ago. But we can all benefit from his timeless, market-tested wisdom. And that's what we cover in today's episode.
Sizzlemanship, by Elmer Wheeler
https://www.amazon.com/Sizzlemanship-New-Tested-Selling-Sentences-ebook/dp/B01M691BVV
Keywords:
sell the sizzle