The Two Copywriters Who Changed Everything, And The Man Who Hired Them
Published by: David Garfinkel on 10-18-2021
Tweet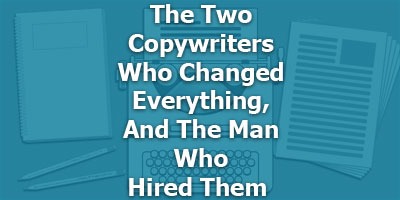 The two men who invented copywriting as we know it are Claude Hopkins and John E. Kennedy. And the man who hired them was Albert Lasker.
I came across this book, The Man Who Sold America, which has information I'd never seen anywhere else before. That was probably because one of the authors, Arthur Schultz, is the former CEO of the ad agency Foote, Cone and Belding — which gave him and his co-author Jeffrey L. Cruikshank access to private papers and other information that was not available to anyone else.
You see, Foote, Cone and Belding used to be called Lord and Thomas. That was the agency Albert Lasker ran when he hired Claude Hopkins and John E. Kennedy.
I probably never would have even known about this book if I hadn't been told about it by Brad Nickel, one of my mentoring clients and a previous guest on Copywriters Podcast.
It's a big book, so I've selected a handful of key highlights from more than 400 pages that go deep into Lasker's life, and his experiences with the two copywriters.
This podcast contains three sections, and each section is focused on one person. First, Albert Lasker… then John E. Kennedy… and last, Claude Hopkins.
We look at how their lives and careers intertwined. I think it's very interesting that all three of them got to where they were and did what they did through some personal connections. In the case of Kennedy, a personal connection he proactively created himself.
Here's the book this information was taken from, and adapted considerably for today's show:
The Man Who Sold America, by Jeffrey L. Cruikshank & Arthur W. Schultz
https://www.amazon.com/dp/B003SNJYTY
Keywords:
old masters of copywriting