Chris Haddad's P.I.G. Method
Published by: David Garfinkel on 12-13-2021
Tweet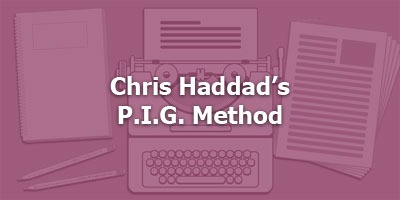 "P.I.G." stands for "Punch in the gut" and I would say that's a fairly universal description of how Chris's copy in his video sales letters affects viewers. When you watch one of Chris's promotions, or read his copy, you go on an emotional roller coaster ride that's right up there with what you experience with a blockbuster Hollywood thriller.
Chris does have a background in theatre and film. But his greatest accomplishments, I would argue, have come in the digital marketing space. Chris has created products and promotions for them which have brought in millions of dollars and caused quite a stir in the marketplace.
However, The P.I.G. Method is the first time, as far as I can tell, that Chris has revealed his secrets of how he puts the promotions together. Which is something a lot of people have wanted to know for quite a while.
On today's show, we covered the product creation process, which is especially tricky for a copywriter or anyone else who has to reverse-engineer their own method and techniques. Not quite like doing brain surgery on yourself, but, it is a challenge because for most people, especially high performers, actually figuring out your own process and spelling it out for others is difficult.
That's because so much of the information is intuitive, or what is frequently known as "unconscious competence."
Chris also gave us a sneak peak at a few of the gems inside his P.I.G. method.
Keywords:
text your ex back secrets