Bond Halbert's Copywriting Secrets
Published by: David Garfinkel on 01-24-2022
Tweet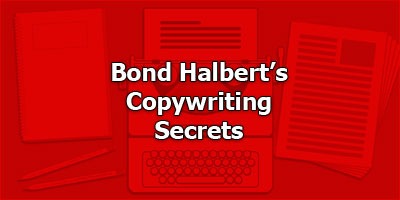 Bond's father, of course, was the famous copywriter Gary Halbert, and Bond is among Gary's first very successful students. In fact, Bond was closest to his dad in both a personal and professional relationship. More recently, after copy chiefing some of the largest financial promotions of our time, Bond pioneered many tactics for getting the highest email open rates in any industry.
After Gary passed away, Bond and his brother Kevin took over TheGaryHalbertLetter.com and the brothers have put out great copywriting products, including the Halbert All-Star Audio Series, which I am proud to say I was invited to participate in.
Bond and Kevin also have started the Gary Halbert Copy Club Facebook group, which has an astounding membership of more than 21,000, as of the day of our recording. That is HUGE for a copywriting group on Facebook!
Bond mentors copywriters and we'll give you contact info for him at the end of the show. What we talk about during the podcast is something we get a lot of questions about all the time, and that is, how do you get started as a copywriter?
Bond began with a brilliant and intriguing idea for every copywriter — but particularly for those of us just at the beginning: How to earn as you learn. And there's more to this than making money. When you follow these tips, you'll be able to prove — quickly — that you're a professional copywriter, and work your way up the pay scale much faster than most people do.
Now, this may sound silly until you face this problem head-on. And believe me, it's already happening. What to say when a prospective client wonders why you'd be a better choice than using AI to write copy instead. It's a compelling argument, and it will help you save jobs you otherwise would have lost out on.
Bond also talked about the number-one thing that keeps copywriters from moving up to the A-level. No matter how good your copy gets, unless you follow this advice, you may be stuck at a lower level for much longer than you'd like.
One more thing you'll love: How to dramatically increase your value to any client by only writing a few words. It's a brilliant idea… I know it will work… and, I'm a little embarrassed to say, I've never thought of it or heard it anywhere else before.
Plus a lot more! This is one show you'll really want to give your full attention to.
To get in touch with Bond, here is his email and a couple of weblinks:
bond@thegaryhalbertletter.com
important blog post:
https://bondhalbert.com/bond-halbert/something-most-marketers-get-wrong/
Gary Halbert Copy Club on Facebook
https://www.facebook.com/groups/garyhalbertcopyclub
Keywords:
getting started in copywriting