Bond Halbert's Copywriting Secrets, Part 2
Published by: David Garfinkel on 01-31-2022
Tweet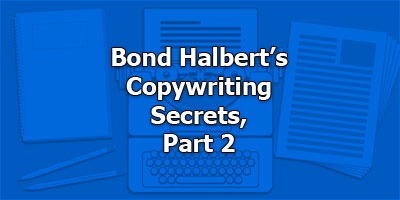 On the last show, Bond talked about better ways to get started in copywriting. On today's show, Bond will share with us some crucial insights about what working copywriters are doing wrong, and how to fix those problems.
Bond's father, of course, was the famous copywriter Gary Halbert, and Bond is among Gary's first very successful students. In fact, Bond was closest to his dad in both a personal and professional relationship. More recently, after copy chiefing some of the largest financial promotions of our time, Bond pioneered many tactics for getting the highest email open rates in any industry.
After Gary passed away, Bond and his brother Kevin took over TheGaryHalbertLetter.com and the brothers have put out great copywriting products, including the Halbert All-Star Audio Series, which I am proud to say I was invited to participate in.
Bond and Kevin also have started the Gary Halbert Copy Club Facebook group, which has an astounding membership of more than 21,000, as of the day of our recording. That is HUGE for a copywriting group on Facebook!
Bond mentors copywriters and we'll give you contact info for him at the end of the show.
Today, Bond talks about the biggest mistakes copywriters are making, starting with how to know if you're talking to the wrong audience. This happens a lot more than most copywriters realize, and Bond has some quick and accurate ways to find out if there's a problem, and if there is, how to fix it.
Besides that, clients make fundamental marketing mistakes all the time. Bond provides time-tested ways to correct their mistakes so your clients can get better returns on their advertising.
More than that, Bond shares some insider tips on easy ways to make light bulbs go off in your client's head, so they start to see your as more valuable… and, of course, pay you more.
Timing issues: Bond shares the hilarious but vitally important "porcupine in heat" theory, as well as how to know when you're mailing too much and when you're not mailing often enough (it's not the same for every type of business).
Also, some ninja research tips to help you multiply client profits, and get paid higher royalties from clients as a result!
This is a great show for copywriters at all levels.
Here's how to get in touch with Bond, and a couple of resources:
bond@thegaryhalbertletter.com
important blog post:
https://bondhalbert.com/bond-halbert/something-most-marketers-get-wrong/
Gary Halbert Copy Club on Facebook
https://www.facebook.com/groups/garyhalbertcopyclub
Keywords:
bond halbert copywriting