Kevin Rogers: Humor In The Era Of 'Woke'
Published by: David Garfinkel on 04-04-2022
Tweet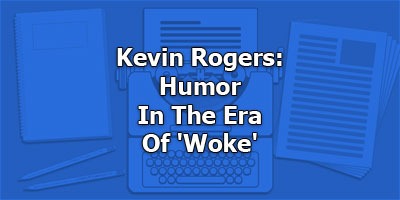 You may be more familiar with Kevin as a superstar copywriter and copywriting educator, which is how he spends most of his working time now. He has created Copy Chief, a community-based forum and training center for copywriters. This was after he had reached the top echelon of pro copywriters himself.
Kevin's also the Amazon best-selling author of The 60-Second Sales Hook, where he shows how to use a proven joke formula to create a powerful marketing hook.
Kevin has many, many more credits to his name.
But as you can see by now, Kevin is the perfect person to come on the show to talk about an increasingly high-wire act for copywriters, and really anyone in business who has a sense of humor: What you can get away with, and what should you avoid at all costs, when it comes to using jokes in the era of 'woke.'
Kevin has gotten back to doing standup on a limited basis, and as for the copy he writes, he says he doesn't use a lot of humor there to begin with.
Comedy, therefore, is still very much a part of his life — just not part of his copy.
When Kevin coaches or does presentations, though, his funny side continues to shine through.
However, he's aware of what's going on throughout the copywriting world, and in today's show he talks about specific examples of, as he puts it, "people who I think are using humor wisely" in their own copy.
If there's anyone who can guide you and your jokes through the land-mine-strewn fields of cultural correctness that we all have to navigate these days, it's Kevin. You'll really appreciate his perspective and spot-on suggestion on how to keep your sense of humor without losing out to the woke crowd.
A couple resources to get more from Kevin:
-
https://copychief.com
- his podcast:
http://copychief.com/ccr
Keywords:
comedy copywriting cancel culture