Copywriting for Life, with Rabbi Evan Moffic
Published by: David Garfinkel on 05-09-2022
Tweet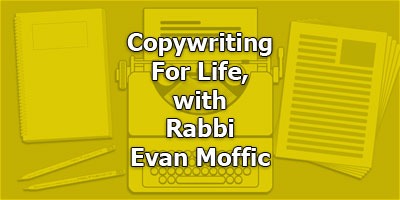 But here's something you probably didn't know: Rabbi Moffic is also a copywriter! He's a former mentoring client of mine. I'm proud of the work we did together and where he's taken it, and I've gotta tell you: He has found uses for what he learned in copywriting in places I've never heard of copywriting being useful, or even thought of before!
Evan is the senior rabbi at Makom Solel Lakeside, a 600-family synagogue in the Chicago suburbs. A Stanford graduate, he's also an popular speaker at churches, where his goal is to bring the value of Jewish learnings to as many people as possible. Evan has written several books, including 'What Every Christian Needs to Know About the Jewishness of Jesus' and 'What Every Christian Needs to Know About Passover.' His latest book is about anti-semitism.
But today, Evan has agreed to talk about the role of copywriting inside and outside of business and religion. I really enjoy the way he looks at copywriting, and I know you will, too.
Evan started by telling us how new things he learned about copywriting helped him write the most effective fundraising letter ever for his congregation! But for him, copywriting has had a much more wide-ranging impact. It has, in fact, changed his overall approach to persuasion, and even modified his perspective on human nature as a whole.
Part of his work as a rabbi is to counsel members of his congregation, when they request it. And, as mentioned before, Evan speaks all over the country to Christians about The Old Testament and other Jewish topics. He's a welcome speaker at these events — he only goes where he's invited! — but there are opportunities to use to tools of copywriting to help make his concepts easier to understand and accept.
As a writer, Evan has used copywriting not only in emails — as you would expect — but also in his books. And, as the father of two very bright daughters, he's found copywriting comes in handy in family conversations.
This is an unusual podcast today in that I can't remember anyone on the show who has taken such a universal approach to copywriting — or, at least, talked with us about it.
You can find out more about Evan on his substack:
rabbi.substack.com
Keywords:
news religion copywriting