Why Nobody Can Make Facebook Ads Work Anymore, with Depesh Mandalia
Published by: David Garfinkel on 07-04-2022
Tweet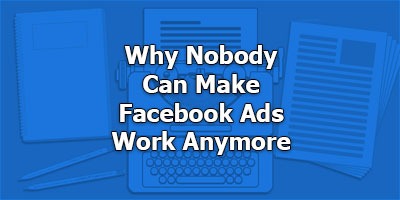 Well, we've found someone I think you'll like. His name is Depesh Mandalia. Besides being a successful online agency owner, with over $100 million in sales for clients to his credit, he is also a gifted speaker, coach and teacher.
Depesh left the corporate world when his job kind of evaporated during the 2009 financial meltdown. But he landed on his feet and within 36 months he had his first seven-figure year, at first as an affiliate marketer.
He began training entrepreneurs and other marketers in 2018, with something he calls the BPM method. Today he's going to tell you about it and why it's very profitable with Facebook in the current environment, even after Apple has clamped down on the data available to marketers.
The title of this episode is "Why Nobody Can Make Facebook Ads Work Anymore." Obviously our guest and his students still can, and what Depesh had to tell us was great.
I started out by drawing one distinction right away: What's important is both copywriting, and strategy. Now the best copywriting has a strategy behind it. A lot of people write ads and copy, the "what," without getting enough into the "why." Depesh has a neat list of five questions that include three "why's," and we'll talk about that in the show today.
But the unavoidable truth is, you have to think a little harder these days if you want to make things work.
With that, here's what I asked him:
1. Depesh, you say that copywriting is your "secret weapon." I wouldn't say that's true of every Facebook advertiser, but I'm glad to hear it from you! What do you mean by that?
2. So, in the big picture, how has Facebook advertising recently become harder to make work?
3. Could you review what Apple's privacy moves have done to Facebook advertisers, and how we need to adapt as a result?
4. I love what you say about the evolution of technology -- fast -- versus the evolution of the human mind -- much slower. Let's talk about how the teachings of the old masters and how they apply to Facebook advertising.
5. Could you talk about the four things you focus on to build the perfect ad campaign?
6. One thing that's really helpful is a simplified way to get started on strategic thinking, and you've come up with a . Could you walk us through your Five Ws?
(Here are Depesh's Five W's.)
A: PLAN
1. WHO are we speaking to?
2. WHAT is the transformation you are offering?
B: ATTACK
3. WHY (emotional) - state shifts
4. WHY (rational) - benefits
C: WHY not? (Barriers, Objections)
7. Could you tell us about your 7-Figure Facebook Ads Course?
Depesh's 7-Figure Course:
https://garfinkelcoaching.com/depesh
Keywords:
facebook ads