Make Analytics Make You More Money, with Katie Switzer
Published by: David Garfinkel on 08-08-2022
Tweet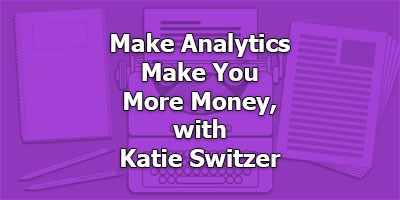 How would you like to increase your response by 30%, without writing any new copy?
How about 300%?
Impossible, you say? Don't say that to our special guest today, Katie Switzer. Because once she explains a few things, she is going to give you real-world examples where these kind of increases have actually occurred.
Katie started out as a mechanical engineer. She learned marketing when she started her own online business for other parents -- she has four children herself. Soon she was taking on marketing clients. Her main focus was improving conversions based on market research and data-driven copywriting
Katie has also worked as a marketing manager for a marketing analytics software company.
These days, she's helping business owners collect and understand their marketing data — and use what they find to improve their results.
I've got to admit, I was pretty excited to hear what she has to say.
Here's what we asked her:
1. At the most basic level, what are analytics and how does a marketer use them?
2. Could you tell us about the biggest mistakes people typical make when they try to use analytics?
3. Let's say you have a small list or you're running a small campaign. Can you use analytics profitably without buying expensive software?
4. How has Facebook made meaningful tracking more difficult, and what are the limitations, especially these days, on using Facebook Business Manager, to get good analytics?
5. Now let's get into the advanced stuff — attribution software and multi-touch models. Could you tell us about those?
6. What are "the most valued customers"… why do they make up the key metric… and how do you find them?
7. What are some of the big wins you have seen people get with analytics?
You can reach Katie by email: katie at engineeredmarketing dot io
Keywords:
analytics attribution advertising