Advertorials and Emails in a Jiffy, with Million-Dollar Mike Morgan
Published by: David Garfinkel on 08-15-2022
Tweet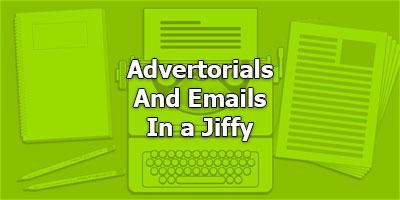 Mike is now copy chief for Money Map Press, a major direct mail publisher. He's also a still-very-active copywriter. He doesn't have time for many podcast interviews, so we're especially grateful that he could join us today.
Here's why he's here:
Let's say you've just written a great sales letter for a product launch. Well, guess what? Your work is NOT done yet.
You still need emails — lots of them. To your list. To your new customers, after they buy. And for affiliates to mail out for you.
Plus, you ALSO need ads and advertorials. To get prospects to your page.
Oh, and don't forget. All these things have to be done FAST.
Well… Mike has just the solution to your problem. And I've got to say, it's pretty cool.
On the show, Mike told us how he did a lot of these things intuitively, but had to develop a system for a new group of copywriters getting started at Money Map Press. He basically needed to open the lock to the treasure chest in his unconscious mind, and share what was already there.
What he discovered is that, for the "ads for the ad" (emails, advertorials, Facebook and Google ads, etc.), 90% of the work had already been done, in the writing of the main sales piece. Knowing what to look for, and what to do with it once you found it, was one of the main unique value points of Mike's system.
He also explained why speed takes care of so many problems. Going for perfection right out of the gate slows you down and doesn't get you perfection in any case. But speed blazes a trail that can lead to perfection, if you navigate it right. Mike gives you some great hints on how to do that.
You'll get a lot from this show, even if you only write sales letters. Because of a lot of the ideas and methods Mike discloses are just as valuable for getting started on a big project.
Keywords:
emails advertorials mike morgan