Financial Copywriting Insider Secrets, with Rob Braddock
Published by: David Garfinkel on 08-22-2022
Tweet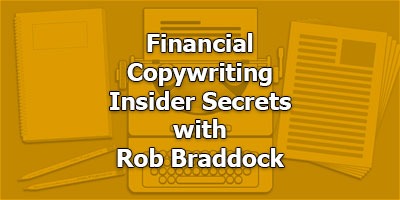 He started his financial copywriting career about five years ago at Agora Financial, where he did well. Rob left Agora to work at WealthPress. Working with a high-powered team, he wrote copy that resulted in millions of dollars of additional sales. All told, Rob counts about $60 million in sales in his career so far.
Not too shabby.
He's gone off on his own and has been a freelancer since last December. Rob agreed to come on today to help people who want to get into financial copywriting understand how he did it, and give them some ideas on how they could get started.
Rob's a Marine Corps veteran and had personal experience doing face-to-face sales before he ever wrote a sales letter… a couple things to keep in mind about what has made him so successful.
One thing I especially appreciate about Rob is how he gets straight to the point without getting too deadly serious about it. I predict you'll have a lot of fun listening to us today.
Some of the points we covered:
Rob tells us what he think is the most important thing about financial copywriting that most people don't know, but need to know — and how he found out about that most important thing.
The best way for someone new to get their foot in the door in financial copywriting.
Steps a copywriter should take to become someone who writes financial promos that sell $1 million or more.
The biggest misconceptions people have about financial copywriting.
What Rob wishes he knew when he first started financial copywriting?
The next step for someone who wants to get into financial copywriting should take.
You can contact Rob at his website: RiseAndMind dot com.
Keywords:
financial copywriting for beginners