Lessons from Great Copywriters, with Brian Kurtz
Published by: David Garfinkel on 10-03-2022
Tweet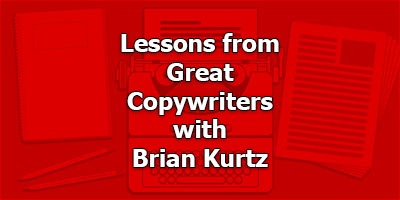 Seven years ago, Brian started a second career writing books and running mastermind groups. As well as republishing old direct marketing classics.
I've wanted to have Brian on the show for a long time, and I was thrilled when he agreed to talk about the copywriting legends he has worked with. If you've ever wondered what the people at the top of this game were and are like, today's your lucky day. Brian's here to tell you.
Brian started out by zeroing-in on what the greats of yesteryear (and some of the superstars he worked with are very active today) do differently from other copywriters. We can all suppose, imagine, or try to find hints from stories and their work. But Brian worked closely with these writers to create winners.
After some sharp insights about what makes the champions a different breed, Brian and I spent a lot of our time talking about the man who just might be everyone's favorite Old Master, Gene Schwartz.
We went way beyond Gene's two famous books as Brian shared some stunning stories about working with Gene, and his life outside of writing copy.
Brian has a number of offers, including a special one (number 3) for Copywriters Podcast listeners only:
1) Opt in to Brian's weekly blog at
briankurtz.net
(and there is lots of free content at that link as well)
2) Go to
OverdeliverBook.com
to buy his book. You'll get instructions on how to buy it on Amazon, and send him the receipt to get the bonuses. Less than $20 for the book, and the bonuses are incredible.
3) My favorite: Special offer on Breakthrough Advertising / The Brilliance Breakthrough:
Both books together for $300 -- a $35 saving. And free shipping
If you're outside of the US, Brian will take half off of expedited shipping.
So, $300 for both books, $330 for outside the US.
We haven't set up a link for this special offer. It's good for up to one week after the podcast.
You have to email Brian: brian at briankurtz dot net for this special offer, and be sure to put "Friend of David" in the subject line.
Keywords:
old masters