Joe Sugarman's Triggers - Old Masters Series
Published by: David Garfinkel on 10-17-2022
Tweet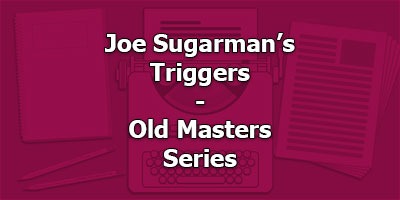 Outside of the direct marketing world, Joe is known for his BluBlockers sunglasses, which he took to great success using infomercials. Joe also came up with the Batman credit card. He printed up a huge number, only to find DC comics wasn't interested in selling them.
So he gave them away at events. Joe was a fun guy. And as you'll hear about in today's show, quite a prankster from early in his life.
Joe wrote a book called Triggers in 1999, and we looked at a few of the most powerful ideas in the book. The information in this value-packed book is familiar on a surface level to most copywriters and marketers, but Joe brings it to life in a unique way with some great stories.
Each trigger, by the way, is a powerful copy element that will increase your conversions.
I think the reason he calls them triggers is that they trigger action on the part of the prospect.
We took a deep dive on 5 triggers in today's show.
Here's what we covered:
Trigger 1: National Hermits Convention: Desire to Belong
Trigger 2: The Snowmobile That Bit Me: Exclusivity
Trigger 3: Our President Drives A Rabbit: Proof of Value
Trigger 4: Instilling Authority In The Men's Bathroom: Authority
Trigger 5: Help, It's A Fire: Sense of Urgency
Link to get Triggers:
https://www.amazon.com/Triggers-Prospect-Motivate-Influence-Persuade-ebook/dp/B00O3QEFSK
Keywords:
joe sugarman