Mind-Boggling Leads, with Joshua Henry
Published by: David Garfinkel on 11-07-2022
Tweet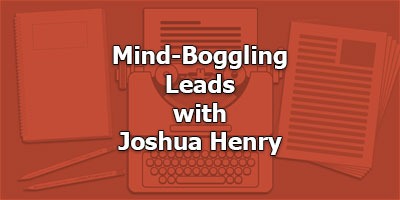 At the time, he was also a pastor for a megachurch with more than 5,000 members. Fast forward to 2018, when Joshua started freelancing and wrote for big names including Jay Abraham, Brian Tracy and the Zig Ziglar corporation.
Like a number of high-performing copywriters, Joshua moved under the umbrella of Agora, where he has written promotions that have made millions. These days, he is copy chief for Money & Markets, an imprint of Agora's fast-growing Banyan Hill company.
After I spoke at Brian Kurtz's mastermind a few weeks ago, where Joshua had also spoken, Joshua reached out to me with an idea that was truly mind-boggling: How to structure a lead that truly gets and keeps 100% of a qualified prospect's intention.
I'm not sure he put it exactly that way, but that's what I took away from it. Joshua offered to share his structure with you on this show, and I said yes.
Joshua has taken some well-known copy elements, added a couple of his own, and come up with something truly bold and audacious. What makes his approach almost impossible to ignore is a deft combination of shock, and carefully-selected breathtaking facts.
All the while, everything is legitimate and on the level. And proven. What's the unique about this approach is the way they are combined. Very powerful and a little unusual.
Joshua originally developed the mind-boggling lead method for financial promos only. But for today's show, he went out of his way to find examples of each element in non-financial promo's. So, there's something for everyone here.
You can get more info about the program World of Financial Copywriting here:
https://bit.ly/3CaB9S8
And if you want to reach Joshua personally, his email is:
joshualeehenry@activatemyadvertising.com
Keywords:
copywriting leads