How To Get Paid What You're Worth, with Doug D'Anna
Published by: David Garfinkel on 11-14-2022
Tweet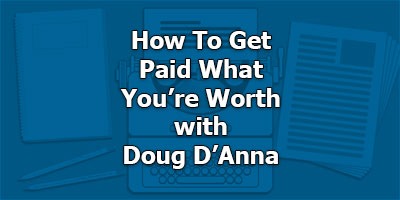 Like just about every other copywriters starting out, Doug was severely underpaid for his work at first. He turned that around on a project that earned him one-quarter million dollars in royalties about 30 years ago. He kept on going from there, and he'll tell us all about that today.
What does it take to bring in the big bucks in copywriting? Doug has figured it out. He's also discovered how to get some pretty impressive public endorsements, like this one from legendary copywriter Gary Bencivenga:
"Writers who can consistently create powerful direct marketing campaigns are as rare as trumpeter swans. I know of only about six in the entire country. Doug D'Anna is on that short list of star writers I never hesitate to recommend."
Today, Doug has agreed to share with you vitally important information about how to get paid what you are worth, which, as you can see by now, he made a lot of effort to learn and profit from himself.
I also have some vitally important information for you:
Copy is powerful. You're responsible for how you use what you hear on this podcast. Most of the time, common sense is all you need. But if you make extreme claims... and/or if you're writing copy for offers in highly regulated industries like health, finance, and business opportunity... you may want to get a legal review after you write and before you start using your copy. My larger clients do this all the time.
Doug took us right back to the beginning, when he was struggling to get paid enough to make copywriting worth his while. It all changed when a man named Richard Stanton-Jones at Phillips Publishing hired Doug to write a promotion for a publication called Retirement Letter.
Stanton-Jones put a lot of time into working with Doug, and did it ever pay off! Doug's promo got double the response of the current control — and it launched his career.
Discovering what he was worth came to Doug in phases. The more he found out, and the more successes he racked up, the more he raised his fees — even once doubling it in a one day!
Doug shared some of his best secrets and strategies in this action-packed, value-rich show.
He's also offering a $51 discount ($299 instead of $350) to podcast listeners on his powerful home-study course: "How to Sell Yourself as a Copywriter. Just use this link:
https://dougdanna.gumroad.com/l/nmufa/DAVIDG
Keywords:
high paid copywriter