VSL that Sells Like Crazy Pt. 2 with Mike Pavlish
Published by: David Garfinkel on 12-19-2022
Tweet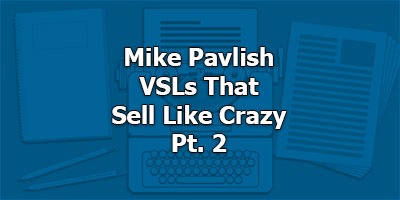 And Mike should know. He's written dozens of VSLs that have brought in 10 million dollars or more. In fact, over the last 30 years, Mike's copy has brought in three-quarters of a billion dollars in sales. And his work is still bringing in the big bucks today.
I want to share with you something from last week, because it's well worth repeating.
High-powered entrepreneur Alvin Huang says this:
"We've tested Mike Pavlish's copywriting agains 5 other A-list copywriters, including many of the top names in the world for sales letters and VSLs. Mike's copy has won every single time. For us, Mike Pavlish has been the Steph Curry of copywriters."
But Mike may be an even better teacher than Steph. I know I learned a lot from him last week and have even used some of it for a VSL between then and today.
To review, last week Mike gave us some great tips on doing research for a winning VSL, told us about the four types of VSLs and how to use each one, and described the complete package of what you need to make your lead capture and hold your prospect's attention.
Today, he gets into the nitty-gritty about what makes an effective opening story.
Mike is the only person I've ever heard talk about TWO kinds of mechanisms, and why you should include both in your VSL script. In addition to keeping your prospects on the edge of their seat, this two-mechanism approach will lock-in their decision to buy from you, and lock-out everyone and everything else. If, that is, you use it the way Mike describes it!
Mike also reveals some secrets about your product and offer… AND… he shares some unique (and highly valuable ideas) about creating urgency and adding to your Average Order Value.
Which is finished up by a separate but also tremendously worthwhile set of tips on upsells.
Keywords:
Video Sales Letter