Powerful Course Marketing Results, with Peter Visser
Published by: David Garfinkel on 12-26-2022
Tweet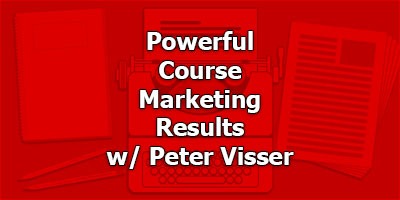 What I found so interesting, and I think you will find it interesting too, is his marketing approach.
While it seems typical at first glance, as you start to look into it a little further, it's not typical at all.
He sells to a webinar with ads he says are "'zero-claim,' so they always pass compliance."
The ads go to a webinar that has no sales pitch, as Peter describes it. The webinars have generated six figures a month for the last year.
From there, he has a copy strategy using one-to-one emails, and a particular way of writing copy that doesn't risk the wrath of the regulators.
Today we'll talk about the lead generation process, and the pitch-free webinars themselves.
Peter has generously agreed to come back next week to tell us in detail about how he gets customers, once they've watched the webinar.
Here is what he talked about today:
- The ad strategy that got his company 50,000 registrants and 7,500 attendees from Google ads over 12 months. As I mentioned, Peter says, "These are 'zero-claim' ads, so they always pass compliance."
Peter got a return on ad spend of 3 to 4 times—even when show-up rate was very low (which is a typical problem with webinars).
- The "Pitchless Event": How his company put on 20 webinars in 12 months that generated six figures apiece, without a sales pitch during the webinar.
An important point for follow-up sales that were initiated after the webinars: Peter got more than 100 five-star reviews on Trustpilot.
I've never heard of anyone doing an online education business quite this way, so I was very eager to have Peter come on and break this down for us.
Peter and his partners also offer a program for traders to start their own online education businesses, not reselling his courses but based on their own experience and expertise. To find out more, go to:
https://cashwithcourses.com/yes
To contact Peter, use this email address:
peter at cashwithcourses dot com
Keywords:
stress free selling