Powerful Course Marketing Results, with Peter Visser Pt 2.
Published by: David Garfinkel on 01-01-2023
Tweet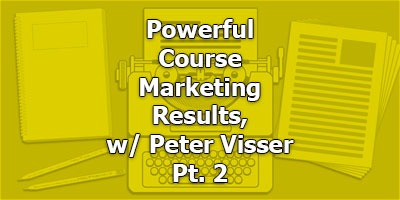 What I found so interesting, and I think you will find it interesting too, is his marketing approach.
While it seems typical at first glance, as you start to look into it a little further, it's not typical at all.
In last week's show, we talked about how he sells to a webinar with ads he says are "'zero-claim,' so they always pass compliance."
The ads go to a webinar that has no sales pitch, as Peter describes it. The webinars have generated six figures a month for the last year.
From there, he has a copy strategy using one-to-one emails, and a particular way of writing copy that doesn't risk the wrath of the regulators.
Today we'll talk about the second part of his funnel -- the pitch his company uses to qualify leads, and his overall approach for writing highly persuasive copy without making any claims.
Peter tells us about a one-on-one email pitch. "It allows us to qualify hundreds of inquiries per day for our $5,000 program."
It's a three-step process that "primes the prospect for a high-ticket sale before they reach the closer." As a result, he says, this keeps his close rate above 40%.
Also, we take an in-depth look at copy without claims! Whether you end up using this approach yourself or not, it's certainly something you would like to find out more about.
Peter and his partners also offer a program for traders to start their own online education businesses, not reselling his courses but based on their own experience and expertise. To find out more, go to:
https://cashwithcourses.com/yes
To contact Peter, use this email address:
peter at cashwithcourses dot com
Keywords:
copywriting claims compliance