The 10 Commandments of Compelling Offers, Part 2, with Joshua Lee Henry
Published by: David Garfinkel on 01-23-2023
Tweet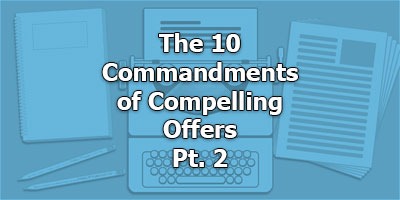 To refresh your memory, Joshua is a high-powered copywriter and copy chief. His first appearance on Copywriters Podcast was a few months ago, when he gave us a great interview on putting together compelling leads.
And, like I said earlier, today, he's back with part two of The 10 Commandments of Compelling Offers. It's not surprising that Joshua would be sharing his own copywriting version of the 10 Commandments, since 12 years ago, Joshua was a pastor for a megachurch with more than 5,000 members. It was at that time he began is copywriting career, writing fundraising letters for victims of the 2010 earthquake in Haiti.
Fast forward to 2018, when Joshua started freelancing and wrote for big names including Jay Abraham, Brian Tracy and the Zig Ziglar corporation.
Like a lot of high-performing copywriters, Joshua moved under the umbrella of Agora, where he has written promotions that have made millions. These days, he is copy chief for Money & Markets, an imprint of Agora's Banyan Hill company.
Now before we get to part 2 of the 10 Commandments, allow me to share with you this Prime Directive:
Copy is powerful. You're responsible for how you use what you hear on this podcast. Most of the time, common sense is all you need. But if you make extreme claims... and/or if you're writing copy for offers in highly regulated industries like health, finance, and business opportunity... you may want to get a legal review after you write and before you start using your copy. My larger clients do this all the time.
1. 6. Take Away
a. Makes prospects qualify themselves. Which is a stronger sale and better customer.
b. Reenforces prospects buying decision.
c. Reduces refunds and cancels.
d. Play hard to get. Don't be desperate/needy.
e. People want what they can't have.
f. Example from entrepreneur coaching program: "If it's going to be tough to scrounge together $5k…OR you can't imagine investing that much in anything, no matter how much more precious time and additional income it gives you…Then chances are this program is not for you. Likewise, if you have any doubts that we can deliver the goods…No hard feelings, just don't apply."
g. Example: "10X Fortunes is exclusive and aggressive by design. This service is ONLY for people interested in making an extreme fortune, fast. And have the guts to go after a new 1,000% winner, every month this year."
2. 7. Risk Reversal
a. Shows skin in the game.
b. Carries the burden of proof.
c. Different than a satisfaction guarantee.
d. Try before you buy offers.
e. Bill my later offers.
f. Example from options service: "Test Drive Wednesday Windfalls Options Service for the next 30 days for only $1. Then, at the end of the month, if you're happy with the gains you've made and want to continue...Do nothing and we'll automatically upgrade you to official membership at the normal annual price."
g. Example from investing service: "When we make our first 1,000% winner, I'll PAY for your second year's membership"
h. Example from online marketer: "If it doesn't work, I'll pay you $200."
3. 8. Guarantee/Warranty
a. Satisfaction, quality or performance based.
b. Questions asked and no questions asked.
c. 100% Money-back? There are other options (i.e., different service/product, offering a second year, discount on another item, gift card, etc.) But money-back is perceived as the safest offer.
d. Longer guarantee is better.
e. Make it conditional, upon a customer behavior.
f. People know they're going to cancel when they order. Most everyone else will forget to cancel unless there's a big problem.
g. Example: Real estate marketing biz that required agents to submit their marketing materials printed on their stationary before eligible for the refund.
h. Example: Have to have completed a certain amount of modules in an online course.
i. Example: Must attend all online course sessions over a period of time to be eligible for a refund.
j. Example from investing service: "If we don't make at least 12 triple-digit winners this year, I'll pay for your second' years' membership"
k. Example from Patriot Health Alliance: "Give Patriot Power Greens a fair and honest try for at least 30 days. If, after trying a full canister, you don't feel like you have more energy, clearer thinking, better digestion, a healthier heart and less pain when you move around then I want you to simply send back any unused canisters along with a simple 1-page note giving me your honest feedback of the product. Just a simple handwritten note will do. Just write your honest feedback on a sheet of paper and put it in the box along with your order when you return it. We're putting all of the risk on our shoulders and backing your order with a never-before-seen 200% money back guarantee."
l.
4. 9. Deadline
a. People need to be pushed to act sometimes.
b. Make it a real deadline with real consequences.
c. Give them a waiting list if they missed out.
d. Build up the FOMO for next time.
e. After a few days reopen and send them an email about an available opening.
f. Example from real estate investing biz: "But FAIR WARNING — after these 100 spots are filled this special edition of the Investor's Toolkit will be removed from the market."
5. 10. CTA
a. Tell people exactly what you want them to do.
b. Make the buy button or CTA absolutely clear.
c. Repeat the CTA several times.
d. Have only 1 CTA per marketing piece.
e. Make it a two-step ad. I.e. download this report, then a CTA for booking a consultation or "strategy session"
f. If needed, switch up the CTA at later stages in the funnel.
g. Example: Ability to call in to tele-sales at the lifetime upsell.
h. Example: Giving a phone number to call
Joshua is one of the instructors in the World of Financial Copywriting program. You can get more info about it here:
https://bit.ly/3CaB9S8
And if you want to reach Joshua personally, his email is:
joshualeehenry @ activatemyadvertising . com
Keywords:
compelling offers