Top 5 Copy Skills To Work On In 2023
Published by: David Garfinkel on 01-30-2023
Tweet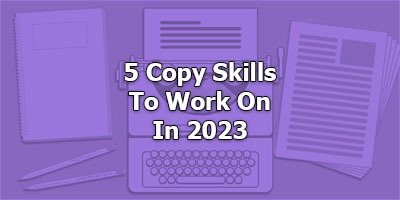 What I'd like to do is niche down to just copywriting. Do you have copywriting goals? I've got five skills or skill sets that are worth improving this year, and I want to give you a peek under the hood.
Every one of these can put more power in your copy and more profit in your pocket. They're not flashy but they are high-octane. And I've found the most successful people never stop improving, so it's worth at least considering these and see if they feel like a fit.
So there are the five skills. You probably have most or all of them already. The idea is that by getting better at any one of them, you copy improves in multiples.
Skill #1: Research
We talked about three kinds of research: fact research, emotional research, and situational research.
Most people know what fact research is, and even getting better at this could really help anyone's copywriting. But emotional research and situational research take copy to a whole new level.
Skill #2: Rewriting
Building off this quote from Ernest Hemingway:
Don't get discouraged because there's a lot of mechanical work to writing. There is, and you can't get out of it. I rewrote the first part of A Farewell to Arms at least fifty times. You've got to work it over.
The first draft of anything is shit. When you first start to write you get all the kick and the reader gets none, but after you learn to work it's your object to convey everything to the reader so that he remembers it not as a story he had read but something that happened to himself.
We talked about what real rewriting is like… why it's so important… and the best way to do it.
Skill #3: Metaphors
We were so fortunate to have the Queen of Metaphors, Anne Miller, on the show a few weeks ago. We talked about her book, The Tall Lady With The Iceberg.
Tucked away in the back of the book are a series of very practical, valuable routines on how you can get better and better at using metaphors in your copy—and everywhere else! We cover those in this part of the podcast.
Skill #4: Go Beyond Swiping
There's a level of copywriting that Gene Schartz talks about in "Breakthrough Advertising" that goes way beyond swiping, or simply following formulas to come up with a headline or body copy.
Gene says, "The idea for an ad or a headline demands its own shape. It cannot be fitted into someone else's solution. The problem defies a formula. And the third, analytical approach -- with no answers, only guideposts and questions -- offers the only way."
We talked about these three levels of copy creativity here.
Skill #5: Get Better At Identifying and Writing To Your Prospect's Level of Market Awareness
This another one of the many gems from Gene Schwartz' book Breakthrough Advertising.
Here are the five stages in a nutshell:
Stage 1- Ready to buy your product
Stage 2- Has heard about your product, but doesn't want it (yet)
Stage 3- Wants a product that does what yours does -- but doesn't want yours (yet)
Stage 4 - Has a need, but doesn't see connection between his need and your product
Stage 5 - Complete unawareness
We talked about getting more familiar with these five stages, and how to use them.
One more thing: If more than one of these appeals to you and you've already decided to improve the skill or skills, don't dive into all of them all at once. Better to do one at a time. Maybe one a week, or one every two weeks, or one a month.
But, if you can, do something every day to improve one of these skills, and stick with one for at least a week, you will find you have some impressive breakthroughs in 2023.
Book links:
The Tall Lady With The Iceberg, by Anne Miller
https://www.amazon.com/Tall-Lady-Iceberg-Metaphor-Metaphorically/dp/0976279444
Breakthrough Advertising, by Eugene Schwartz
https://breakthroughadvertisingbook.com/
Keywords:
copywriting tips