Empathy Advantage in Keyword Research, with Meg Casebolt
Published by: David Garfinkel on 02-06-2023
Tweet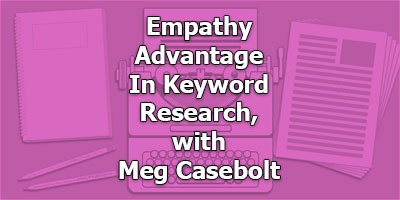 Meg's been very successful with a long-term search-engine optimization strategy she uses for her clients. One example that you should find interesting: Meg's client Sara Frandina showed up third for the keywords "conversion copywriter" -- and this was organic, not an ad -- yesterday when I searched for that term on Google.
Third on the first page of organic search for "conversion copywriter." Not too shabby!
You may remember legendary copywriter Gary Bencivenga had a huge success with the headline "Get Rich Slowly." Well, Meg's approach is similar. She doesn't go for the black-hat tricks and other gimmicks popular among some marketers.
"We don't believe in quick-fix formulas that promise the world—but break your heart when you see they don't work," she says.
One key element of Meg's long-term, long-lasting approach: The strategic use of empathy in keyword research. Empathy, which could be seen as an appropriate expression of love.
It's an approach I've never heard of before, in the specific way Meg talks about it. So I was very excited to talk with Meg about it.
She began with a great example -- a stark contrast between a bad example of empathy (that is, hardly any empathy at all) and the good use of empathy. This was for keywords in weight loss.
From there, Meg shared her four strategies for coming up with a comprehensive empathy-based keyword strategy:
1. Empathize with your customers' journey to find an answer
2. Understanding the WHY / Setting yourself apart
3. Providing a solution
4. Be empathetic when developing content
This was a very valuable look at how to thrive in today's content-based search engine environment.
Meg's website is:
https://loveatfirstsearch.com/
Keywords:
empathy seo copywriting