Contrarian Freelance Strategy, with Colin Chung
Published by: David Garfinkel on 05-22-2023
Tweet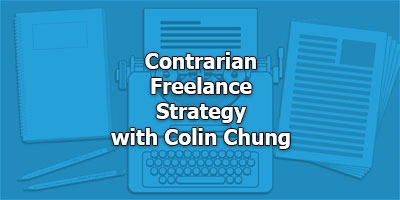 In 18 months, he doubled his eBay income and was earning six figures for the first time in his life. As a freelance copywriter. In one year, he doubled it. Before long after that, Colin was making really big bucks.
Not only that. He ended up writing for major clients, including Jay Abraham, Clayton Makepeace, Mike Dillard, Agora, and even a Shark Tank investor!
Also, from 2014 to 2020, Colin was the primary coach for John Carlton's Simple Writing System, where he coached many freelancers, business owners, and other aspiring copywriters.
After all this, Colin has decided to reveal his secrets. And I say "secrets" because his approach, as he describes it, is different from the approach any other successful copywriter I've ever talked to or heard of.
Colin has coached individual copywriters and managed teams of copywriters for clients. His experience goes far and wide. But only recently has he decided to go public with this.
Colin also has a very modestly-priced course to help you ramp up your own freelance business. Check it out here:
https://garfinkel.thefederation.io/
Keywords:
freelance copywriters