Getting ChatGPT To Write Emails, with Nathan Fraser
Published by: David Garfinkel on 06-05-2023
Tweet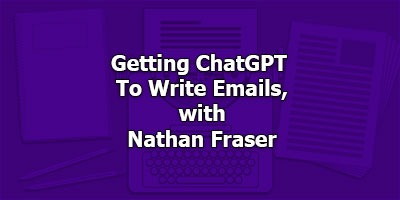 That's because he has figured out how to use ChatGPT to assist him with writing his emails. They key word is "assist." It does require work and thought on the human's part. But, the good news is, AI is helping him save time and become more productive.
There are some caveats, which Nathan will cover. Meaning that you can't just push a button and get fully-finished copy, ready to mail.
Here are some notes Nathan prepared for the show, which includes an amazingly generous full set of working prompts to get an AI started writing emails for you.
Nathan's notes for today's show:
This is made for use with the FREE version of ChatGPT.
There are paid tools out there that can get close to duplicating this process.
I wanted to make this accessible to everyone.
What you'll get at the end is a way to crank out emails to send your list and increase your sales.
All you need is to be able to copy and paste nine prompts.
If you're not great at writing emails, this will make you decent.
If you're great at writing emails, this will make you a lot faster and a lot more valuable to your clients.
To get the full list of prompts and marketing data sheet template,
Go to
https://advertisingcheatcodes.com/ai-emails/
Or Contact Nathan at
AdvertisingAlchemist.com
Keywords:
chatgpt copywriting ai emails