The Power Of Case Studies, With Joel Klettke
Published by: David Garfinkel on 06-12-2023
Tweet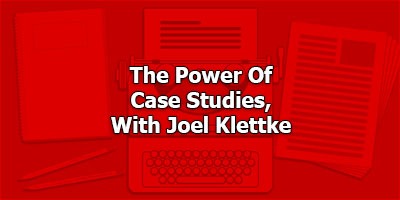 Our guest today, Joel Klettke, is the founder of Case Study Buddy, a business that helps companies like HubSpot and Loom to scale up their case study production and include it in every segment of their marketing—from lead generation and upsells to outreach and nurturing. Overall his company has done more than 2,000 case studies for more than 300 clients.
Joel's also a copywriter and a proud dad of two. I believe his one regret in life is being a fan of the Calgary Flames hockey team. I don't blame him one bit. The last time the Flames won the Stanley cup was in 1989, and I suppose we should just leave that there.
But lucky for us, Joel knows a lot about case studies and he's generously agreed to share some great tips and insights with us today.
Here's what we asked Joel:
1. What are case studies, the way you look at them?
2. What are the different types of case studies?
3. Why do case studies work, and how do they work?
4. How did you get into specializing in case studies?
5. What does Case Study Buddy do for your clients?
6 . Could you give us an example of a good case study?
7. What would be an example of a bad case study?
8. What are your top tips for writing great case studies?
Joel's company has a newsletter you can get for free:
https://casestudybuddy.com/newsletter-sign-up/
Keywords:
case studies copywriting