Legal News For Copywriters, With Attorney Rob Freund
Published by: David Garfinkel on 06-19-2023
Tweet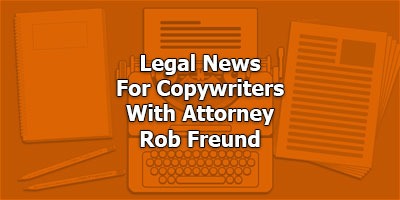 "Is it legal?"
That's because, very simply, you're putting your business at risk if it's not.
Today we have an expert who lives with this question all the time, and helps his clients get the best answers. Robert Freund is an experienced advertising attorney who focuses his practice on social media marketing and e-commerce issues. His clients include direct-to-consumer brands, marketing agencies, and individual creators.
I am constantly impressed by Rob's savvy posts on Twitter, and sometimes astounded by the stories and examples he comes up with. And I stand in the company of giants who are also impressed: The Wall Street Journal, The New York Times, Bloomberg Law, Vox and Forbes. They've all quoted him.
Plus, he's lectured about social media law at the University of Southern California and other major institutions, in the U.S. and in Europe.
So as you can see, Rob really knows his way around the most important issues involving advertising and the law. I was grateful he agreed to share some of his wisdom.
Here are the questions we asked him:
1. Let's start, as they say, at the beginning. A lawyer has so many specialties to choose. How was it that you came to specialize in advertising law?
2. Could you run us through a few basics
- things people should know, but either don't know, or do know but ignore?
- Especially, where do people push the line with claims and promises, when it turns out they're also tempting fate?
3. You had a very interesting tweet a couple weeks ago. Let me quote from it.
"The lesson for brands: your policies are not just boilerplate—they can save you from potentially devastating liability exposure.
"And it's not enough to write a good policy; you must also carefully consider how the terms are presented to your users to ensure you can enforce them."
What this says to me is every promise you make online has weight and consequences, or at least might. Could you talk about that?
4. Let's take this one step further: Do you have a horror story for someone who went over the line? What were the consequences?
5. And, on maybe a happier note, can you tell us about someone you've taken out of the fire and away from the host stove, thus avoiding them a trip into the frying pan? What did they do and how did you help them back to safety.
6. Tell us more about your practice, who should get in touch with you with what kind of problems, and what's the best way to reach out?
To connect with Rob:
Instagram
https://www.instagram.com/robertfreundlaw/
Twitter
https://twitter.com/robertfreundlaw
https://robertfreundlaw.com
Keywords:
copywriting compliance law