Direct Mail Secrets Updated—Old Masters Series
Published by: David Garfinkel on 06-26-2023
Tweet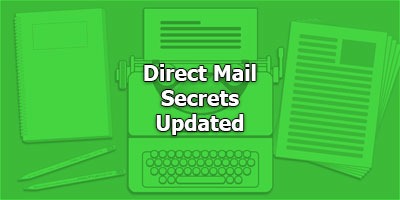 Mayer was a man of many hats—a practitioner, an industry executive, and a teacher. In his obituary, the New York Times reported that Mayer had taught more than 20,000 college students and business executives the hands-on secrets of direct mail.
Now you might reasonably assume the following: That was then and this is now. So much has changed.
Today, we found out. To prepare for the show, I combed through the book and found 10 great tips that apply whether you were doing direct mail in the 1950s or online marketing today. In some cases, I updated the tips. But more often than not, what worked then works almost exactly the same today.
I selected these 10 tips based on this simple idea:
Just leaving out ONE of these could crater your sales—or vastly reduce them, at the very least.
So even if you tell yourself you know these… ask yourself, are you doing the updated version of every one of these? Because if you're not, you're probably leaving money on the table.
Let's take that money off the table and put it back in your pocket.
The tips we covered spanned the whole of direct marketing. Mayer knew it all: copywriting, offer creation, fulfillment, list selection and list management. He was truly an industry expert.
Our topics included: the one thing that stops sales from happening, more than anything else… the one thing every piece of copy needs to do… why research makes the difference between success and failure in direct marketing… the kinds of words you should never use in your copy… when it's a good idea to use the same copy over and over again… and much more.
The book is called How To Make More Money With Your Direct Mail, by Ed Mayer. It's out of print and extremely hard to find. Not on Amazon. A couple on eBay.
Keywords:
direct mail copywriting