Writing Supplement Copy, with Steve Earl
Published by: David Garfinkel on 07-17-2023
Tweet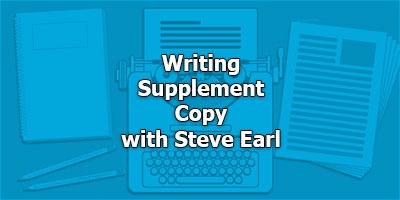 Steve Erl has written copy for some of the best-known names in the business. His clients include Newmarket Health, Dr. Al Sears, Pure Health Research, BioTrust, and many others.
Supplement companies can grow very quickly. Steve has been writing copy and developing offers for a skincare and pet brand that has grown from $5 million to $100 million in the last four years. With his help, of course.
Steve's been writing copy full-time for nine years, and recently started a couple businesses himself he told us about on the show—mentoring, and a newsletter on supplement copy—which may be of interest to you if you decide to get deeper into this part of copywriting yourself.
First, though, Steve's walked us through three of his most important experiences and lessons, to give you an idea of what the world of writing supplement copy is like.
Steve told us about a seemingly terrifying experience which was a blessing in disguise—copy that got sent back from his client after four weeks which had, in his words, "the heart ripped out of it." But what happened next was jaw-dropping and eye-opening.
The next lesson came from a much bigger win. His copy was so good, the copy chief said, that it was outpulling the control. But oddly enough, it didn't become the control. Steve shared the interesting information he picked up from that one.
Writing copy in the supplement field can make a writer gun-shy, because of all the compliance requirements and the knowledge that sooner or later, there will be a lawyer looking over your copy. But what Steve learned was, don't write for that lawyer—write to sell the product, and let the lawyer do their job later. Third important lesson.
Steve just started an email newsletter called Supps Copy Chief. He told us about it, and you can find out more here:
https://suppscopychief.com
Reach out to Steve here: steve@suppscopychief.com
Keywords:
supplements, health, copywriting