Copywriting to Women, With Mike Pavlish
Published by: David Garfinkel on 07-31-2023
Tweet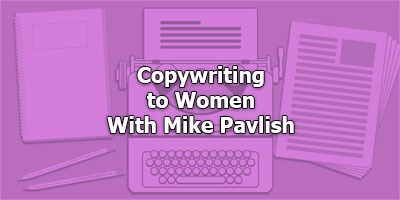 This from a very controversial Old Master, the founder of psychoanalysis, Sigmund Freud. In a letter to author Marie Bonaparte, grand-niece of Napoleon Bonaparte, Freud wrote, "Despite my 30 years of research into the feminine soul I have never been able to answer the great question, 'What does a woman want?'"
A lot of people think Freud didn't understand much about women in any way.
Now our guest today does have an answer to that. Not a universal answer, but a proven answer to the more practical question, "What do women prefer in how you write to them in sales copy?"
Mike Pavlish has this answer because he has written more than 400 long-form sales letters and video sales letters to women, for products include health, diet, fitness and beauty. For 32 years.
Overall, Mike's copy to male and female audiences has racked up more than $725 million in sales.
Today, he shared 12 tips with us, based on what he's learned over many years, up to and including this year.
Mike told us that women and men respond VERY DIFFERENTLY to words, phrases, benefits, tone, personality and claims.
The default of a lot of copywriting, "dude copy" or "macho copy," doesn't work.
What does work?
Most important of all, you need to understand that men are much easier to sell to than women, Mike said. Men make more impulsive purchases, take more unproven risks, and buy for simpler reasons.
But women are far more complex in their buying behavior, Mike said.
Women have a key primary need than most men don't understand and appeal to when they write. Mike explained what this need is and gave good and bad examples to make it clear how to phrase winning copy in this regard.
Mike also shared specific, ready-to-use secrets about tone… wording… connecting with women's conversational style… the importance of relationship… and many other key tips.
You can contact Mike at mike@mikepavlish.com.
Keywords:
why women buy