How Copywriters Look At The World
Published by: David Garfinkel on 08-07-2023
Tweet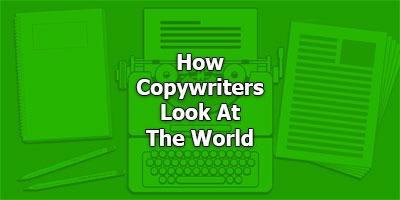 Old Master Clyde Bedell emphatically says yes.
Clyde Bedell is not all that well known these days. We featured his work last year in an episode where we talked about his seven keys to believability.
Though he's not all that well known today, decades ago Bedell was one of the top guys you would turn to if you want to learn how to write copy that works. Besides being a highly successful advertiser, he was also a prominent teacher.
For example, he built a national sales training program for Ford Motor Company in the 1930s. When he was teaching copywriting at Northwestern University, he couldn't find a suitable textbook, so he wrote one.
That textbook eventually turned into "How To Write Advertising That Sells." It was first published in 1940—13 years before I was born. This book is 8-1/2 by 11 and a massive 539 pages. It's pretty hard to find a copy these days, but I found one copy for sale on Amazon for $956.62. Lucky for me, I got my copy years ago when it was easier to get and not quite as expensive.
Today we looked at a chapter from this massive book called "Copy's Point Of View." It covers key points on how copywriters need to look at the world if they want their copy to convert.
We started with the understanding that what we're going to talk about today is not how a copywriter necessarily sees the world 24/7. It's not that you have a completely different way of eating breakfast… of buying shoes… or of dealing with annoying relatives.
This is about how you look at things when you're writing copy.
I saw an interesting meme on Twitter, quoting Gary Bencivenga. It said:
"Copywriting is not a secret formula, it's a way of thinking."
That way of thinking is what today's show is about.
We covered four big parts of the copywriter's mindset. This will be useful to new and advanced copywriters alike, as guard rails on what to focus on when you're writing copy.
In the show, we looked at some ads to illustrate some of the key points in what Bedell had to say.
Bedell's book is all but unavailable. However, here are two other books mentioned during the show:
Twenty Ads That Shook The World, by James Twitchell
https://www.amazon.com/Twenty-That-Shook-World-Groundbreaking/dp/0609807234
How To Write A Good Advertisement, by Victor Schwab
https://www.amazon.com/How-Write-Good-Advertisement-Copywriting/dp/1648373143
Keywords:
Copywriting foundations