The Little-Known Power of Microstories
Published by: David Garfinkel on 10-09-2023
Tweet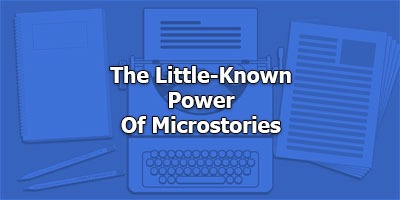 You can easily sprinkle microstories throughout your copy, replacing interesting parts of your pitch with little gems that are truly intriguing. Not only that, but these microstories can make up complete posts on Instagram, TikTok and Twitter. And there's a real good chance that they'll be more interesting than if you presented the same information without putting it into a story.
Today we find out what microstories are, how easy they are to create, and how to use them to maximum advantage.
Action Steps:
1. You can use stories anywhere in your copy. Most of them don't need to be hero's journey stories, but you can always fit in a microstory to get more traction with your prospect's attention.
2. On TikTok, Instagram, Facebook and other social media platforms, try microstories to get greater attention and engagement from your viewers.
3. Use microstories to make your proof elements more interesting, and increase their convincing power.
4. Get The Persuasion Story Code to learn how to do microstories.
https://www.amazon.com/dp/B0CFD2KXNQ
Then, start using microstories a lot more than you're already doing!
Keywords:
micro stories short form content copywriting