The Copywriter's Workout, With Wendy Ann Jones
Published by: David Garfinkel on 11-06-2023
Tweet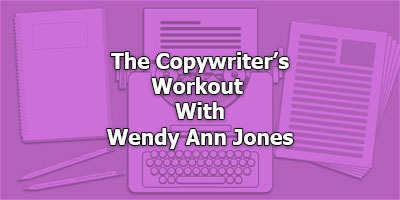 Today's guest, Wendy Ann Jones, confronted that important question herself when she first started writing copy. She couldn't find a good answer in anything available, so, created the solution herself.
It's a terrific book called The Copywriter's Workout and Wendy really thought through what copywriters need to work on. Using this book you can even create a portfolio to show off your practice work to prospects, so they can at least get an idea of what your writing's like.
But most important to me is that this book can serve as a lifetime desktop companion for a copywriter who wants to stay in shape. Wendy has agreed to join us today and tell us all about it.
On the show, Wendy explains what went into creating the book, and how other copywriters have used it to their advantage.
Wendy's website:
https://www.wendyannjones.com/
The Copywriter's Workout (book):
https://www.amazon.com/Copywriters-Workout-Copywriting-Kick-Ass-Portfolio/dp/195955591X
Keywords:
tips for better copywriting