"Sprint Testing" For Faster ROI, With Nathan Fraser
Published by: David Garfinkel on 11-13-2023
Tweet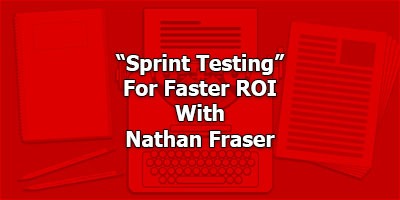 For most people, it's a roll of the dice. Or time to call in an expert in statistics. Because optimizing is so complicated that most people don't know how to do it—or get it right without taking weeks and weeks and spending hundreds of dollars in ad spend, just to test and get it right.
The four things you need to optimize are 1) your hook, 2) your headline, 3) your pain point, and 4) your call to action.
Lucky for you, Nathan has gone through weeks of testing and tweaking to come up with a method to do it fast, do it cheap, and do it right. What do I mean by that?
What Nathan figured out allows him to figure out what's going to work in his main copy before he writes a word, for about $8-$15 a day. In three or four days.
He calls it Sprint Testing, and he's going to lay it all out for you today.
Reach out to Nathan:
https://advertisingalchemist.com
Keywords:
split-testing pain points promices headlines