Episode 082 - Brian Cassingena – Daily Email Secrets
Published by: David Garfinkel on 11-12-2018
Tweet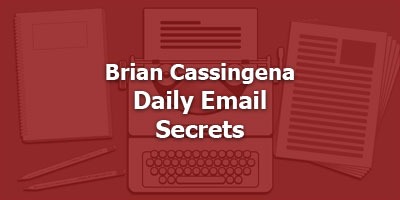 Last year, more than $1.3 million, just for Mindvalley alone.
Brian has rolled out more than 20 major funnels, and some of these are making 6 or 7 figures per year on autopilot.
Brian's back with us from last week. Today, he's going to talk with us about making money with daily emails.
1. Could you describe what sending a daily email means? Is it literally every day? How long are they typically?
2. When was the first time you started or took over a daily email program? Are there any results you can describe?
3. To many business owners, the idea of sending out an email to customer everyday borders on the unimaginable. What do you say to clients to reassure them what they send will be welcomed by customers, and that you'll have enough to write about.
4. What advice would you give to a business owner who's working with a copywriter to do daily emails?
5. What would you suggest to a business owner who wants to do it themselves?
6. And if a copywriter wants to approach a client about doing a daily email program, what are some suggestions would you have about how to go about this?
7. I'm sure you've seen some big mistakes people make with daily emails. What are some of them?
8. Could you share some inside secrets no one else talks about to make daily emails work?
Geniuses Of Copywriting Podcast
Keywords:
email copy mind valley marketing ben settle