Episode 084 - LinkedIn Content Secrets with Ted Prodromou
Published by: David Garfinkel on 11-26-2018
Tweet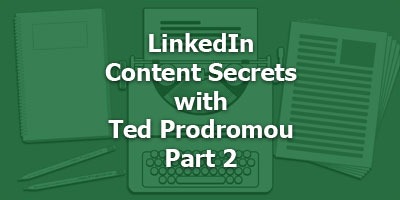 For today's special Report from the Field, I literally met our guest "in the field," at the Platinum Mastermind Group a few weeks ago. His name is Ted Prodromou, and he's known as America's leading LinkedIn coach.
That would be good enough if Ted knew how you could get a job on LinkedIn better than anyone else, but I was extremely impressed that he knew a lot more than that. He knows how copywriters and entrepreneurs can use LinkedIn to make large amounts of money, as he does for himself every month.
Ted's the author of Ultimate Guide to LinkedIn for Business, and the third edition will be released by Entrepreneur Press next March. I'm so delighted that he's agreed to come onto the Copywriters Podcast and share some of his secrets.
Welcome, Ted!
Before we get into the questions, let me share my one and only secret for this podcast:
Copy is powerful. You're responsible for how you use what you hear on this podcast. Most of the time, common sense is all you need. But if you make extreme claims... and/or if you're writing copy for offers in highly regulated industries like health, finance, and business opportunity... you may want to get a legal review after you write and before you start using your copy. My larger clients do this all the time.
1. Ted, after listening to you, I got the impression that you really see LinkedIn differently than most people see it. Could you share the highlights of what opportunities you see for freelance copywriters, and for owners of small to medium businesses?
2. What are some simple actions a copywriter can take on LinkedIn, to get more copywriting clients?
3. Let's say a business sells online courses or other kinds of info-products. What are some basic things a business can do to bring in more sales?
4. What are mistakes you see people making on LinkedIn – both really dumb ones, and mistakes that seem like they're reasonable things to do, but actually aren't such good ideas after all?
5. Please give us some tips on writing a LinkedIn profile. What are the most common mistakes, and what are your most popular strategies?
6. What writing tips would you suggest for articles and other content on LinkedIn?
7. You have this great set of insider secrets you call the LinkedIn Cheat Sheet. Could you tell us about it, and how our listeners can go get a copy themselves?
Keywords:
linkedin profile secrets