Episode 094 - The Sherlock Holmes of Marketing, Part 2
Published by: David Garfinkel on 02-04-2019
Tweet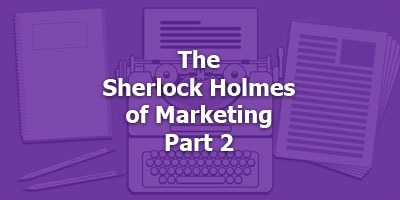 I know this because Meron is a mentoring client of mine. I've seen the kind of detective work he does and the massive sales results he's gotten for clients. Meron can do what he does because he's a dedicated student of buyer behavior during every step of the sales process. He uses software skills to track how buyers respond to each part of a sales funnel, and he makes adjustments accordingly.
Today he's going to talk about the just one horrible crime against marketing he sees people committing all the time. Often not knowingly or intentionally, but the results are the same. No matter how you kill the sale, you miss out on a lot of money you would have otherwise made.
In this episode, Meron talks about what he calls "The Case of The Stolen Traffic." It's frightening on the face of it. What is worse, this could be happening to you and you wouldn't even know it. What is more, it has the net effect of making the traffic that's not "stolen" VERY expensive.
Some key points from today's show:
• How Meron has reduced ad costs in a marketing campaign by up to 91% — simply by recovering "stolen" traffic that never should have been stolen in the first place.
• How to find out if, when people click on your ad, they never make it to your website (yes, this really does happen!) — and, what to do about it
• Getting emails delivered — to people who have signed up for your emails and actually WANT to receive them — is a lot trickier than most people realize. Meron shares some insider secrets. (Besides being a copywriter, he's also a tech whiz. He has written computer code "at the server level," for example, and created new programs to complete complex marketing tasks that no one else seems to have programs for)
• Dead links in your emails. No, we're not talking about when you put the wrong link in the email you sent out. There are other problems that keep people from clicking through once they've opened your email. Meron explains.
Marketing Killers Cheat Sheet
Keywords:
seo marketing website copy