Episode 096 - Einstein 2.0 and Copywriting
Published by: David Garfinkel on 02-18-2019
Tweet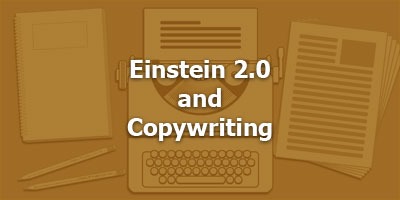 It's a quote that has led a lot of people to think they don't need to know anything… all they need to do is "be creative" by using their imagination, and all their dreams will come true.
That's just not true. Because that quote, while accurate, is taken way out of context. Einstein needed to add just one word to it so the quote would stand alone and capture the meaning of the sentence in context, without the words that came before it and after it.
He probably had no idea, even in his wildest imagination, that the sentence "Imagination is more important than knowledge" would become a social media meme to justify that self-defeating habits of the lazy and the self-indulgent. But nevertheless it has, and we're going to set things straight in this show, at least for copywriters.
The missing word
We reveal what the missing word from that quote is, right here on the Copywriters Podcast.
My holiday journey learning about Brian Wilson
Brian Wilson of the Beach Boys didn't go to music school. He never even took a piano lesson. He doesn't read music. But he wrote some of the most stunning and memorable music of his time.
I found a little-known documentary about him over the holidays in December and watched it three times. I'll probably watch it a few more times, too. I got some unique and valuable information out of it, and it was fun to watch!
I learned something very important that goes against the popular notion of Brian Wilson being an uneducated, intuitive genius… something he revealed in the first five minutes of the documentary. I share it in the podcast.
What Brian Wilson did doesn't just apply to music. It applies to copy, too.
We get into the most important part of what Brian Wilson did, and show how you can use the exact same principle in learning to write very creative, high-earning copy.
Joe Schriefer's personal swipe file
Joe Schriefer of Agora Financial provides a huge hint about what to do — by showing what he did, himself —in the voluminous personal swipe file he provided in the $2500 product, the Agora Financial Copy Camp home study course. We discuss. It's very enlightening, and will provide a road map for anyone who wants to get better at copy — whether or not you have access to the Agora course yourself.
But please let's not make this all about Brian Wilson and Joe Schriefer
Joe Schriefer is certainly a unique individual, but some of the things he has done to achieve his level of excellence are remarkably similar to what other top copywriters have done to get to where they are. We talk about what those things are.
The difference between loading up on knowledge and informing your imagination.
There's a big difference. Being an "A" student in the "copywriting literature" is, in fact, taking the easy way out. And the only prize you win for stale knowledge is the consolation prize. Know the difference.
Three things you can do, starting today, to inform your imagination and get better results with your copy.
Obviously, there's no substitute for writing copy when the heat is on and the stakes are high, and living with the consequences, and learning from them. But there are some other things you can do that are time-tested and consistently proven to work. We discuss.
Keywords:
creativity copywriting